Exhibition Calendar
22nd Floor Capitol Gallery
Through July 31, 2021
Arts4All - Forty 4 Forty: An Exhibition Celebrating Art, Life, and Floridians!
Cheryl Kinderknecht
Friends at the Gala
Mixed media collage

Alex Wittkopf
The Day I Moved
Photography

Margaret Zabor
Paint Party Girl


Watercolor
To commemorate its fortieth anniversary, Arts4All Florida called on its artists for forty pieces of artwork. Artists answered the call with paintings, drawings, photography, digital art, collage, and calligraphy. All of the exhibited works have identical dimensions but that is where the similarity ends. Each makes a singular, inspired visual statement.  The exhibition includes works by award-winning artists, Arts4ALL Florida artists-in-residence and registry artists, student artists, and artists who support the vision of a world in which the arts are universally accessible.
Virtual Tour
Take a virtual tour of the gallery and Arts4All - Forty 4 Forty HERE.
Gallery for Innovation and the Arts
Through September 30, 2021
Teodora Verbitskaya - Two Regimes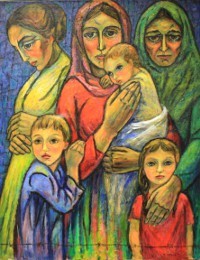 Nadia Werbitzky
Internment
Teodora Verbitskaya wrote about her life from 1920 to 1945. Her daughter, Nadia Werbitzky, was a professionally trained artist who painted from memory. Teodora and Nadia were witnesses to both the Holodomor and the Holocaust in Ukraine.  During this time, they were sent to Germany to serve as slave laborers. The forced labor camp that held Teodora and her daughters was liberated by United States soldiers in 1945. This exhibition represents the work of these two Ukrainian women.  "Two Regimes" tells a true and powerful story of survival under the two regimes of Stalin and Hitler: before, during, and after the Holodomor of 1932-33, the Holocaust of 1933-1945, and WWII.
Museum of Florida History
Opened in 1977, the Museum of Florida History collects, preserves, exhibits, and interprets evidence of past and present cultures in Florida, and promotes knowledge and appreciation of this heritage.
As the state history museum, it focuses on artifacts and eras unique to Florida's development and on roles that Floridians have played in national and global events.
Through exhibits, educational programs, research, and collections, the Museum reflects the ways that people have shaped and reacted to their cultural and natural environments. The newest attraction at the Museum is Phase 2 of the permanent exhibit Forever Changed: La Florida, 1513–1821. Phase 1 of Forever Changed opened in 2012 and featured the time period 1513–1565. The new exhibit explores a dynamic period in history—from the meeting and interaction of native and European cultures to Florida's adoption as a United States territory.
For more information, visit museumoffloridahistory.com

A reproduced portion of a Spanish ship, where visitors can learn about navigation and life at sea in the "Forever Changed" permanent exhibit.
Cabinet Meeting Room
*Until Removed
Photography by Don Browning
The artwork was donated to the Department of State Art Collection in 2007 and commemorated the establishment of a Wading Birds Rookery Sanctuary.