Silver Springs
In 1924, Ed Carmichael leased Silver Springs to William Carl Ray and W. C. "Shorty" Davidson. They signed a 50-year lease and intended to develop the land into an attraction. Under Ray and Davidson's creative vision, Silver Springs became a household name and one of the most visited theme parks in the country during its heyday. Over the decades, Ray and Davidson created a massive marketing network and transformed the park several times.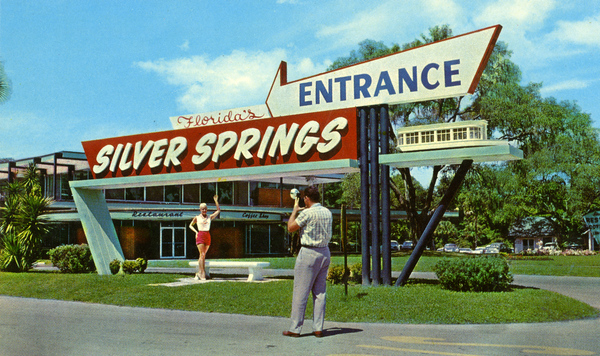 Their first addition to the park was Ross Allen, a herpetologist from Pennsylvania. In 1929, he opened Ross Allen's Reptile Institute at Silver Springs. The institute regularly went on expeditions in the surrounding Ocala National Forest to collect snakes, alligators, turtles, and other reptiles, which were studied and displayed on site. Allen's Institute was instantly a successful new attraction after Allen himself introduced daily shows in which he feed and wrestled live alligators and milked snakes for their venom.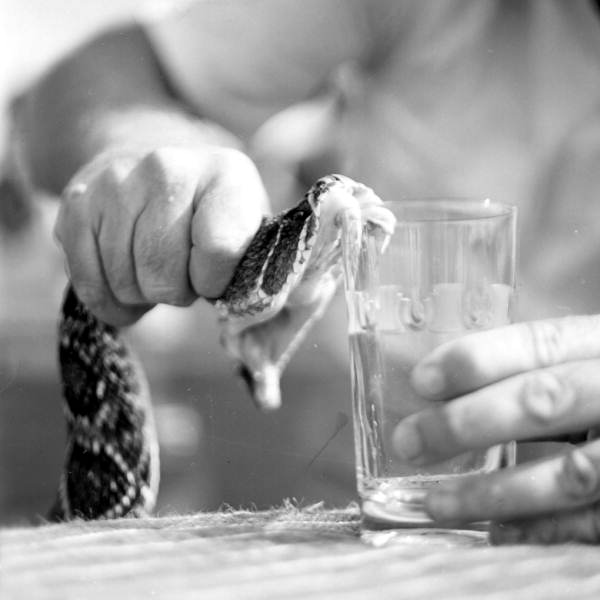 In addition to all of the entertainment provided by the institute, they also discovered new methods for creating and processing snake anti-venom and shipped both venom and anti-venom worldwide. In the 1930s, Ray and Davidson teamed up with Colonel Tooey to create a jungle cruise attraction, which consisted of a fast paced speedboat ride around the denser jungle shorelines of the Silver River. In 1934, Ray and Davidson built a replica Native American Village at Silver Springs. The new attraction was staffed entirely by Seminole Indians who lived and worked in the village, producing authentic clothes, canoes, food, and other handicrafts for sale. In the 1950s, Ray and Davidson added the Prince of Peace art installation and Tommy Bartlett's Deer Ranch, where guests could interact with and feed baby deer and bunnies. Then, in 1953, Ray and Davidson collaborated with Sam and Vernon Jarvis to open the Carriage Cavalcade, which displayed a variety of transportation vehicles throughout history. They continued to update the museum with new transportation technology throughout the 1970s, including a replica rocket ship. Over the decades, various other attractions have operated at Silver Springs, including a jungle safari jeep ride, the world of bears, various wilderness trails, a carousel, a petting zoo, a fountain show, a lighthouse ride, and a botanical garden.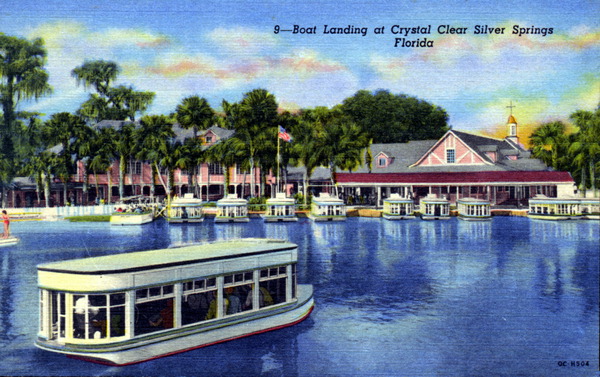 Ray and Davidson's success was due to the combination of their unprecedented marketing campaign and imaginative additions and improvements to the park. Among their many marketing ideas was a postcard campaign, starting in the late 1920s, which showed fantastic, colorful images of the landscape and facilities. During the late 1930s they hired Bruce Mozert as resident photographer. At Silver Springs, Mozert developed and perfected many numerous underwater filming and photography techniques, giving him the moniker "Father of Underwater Photography." Mozert's whimsical scenes were depicted on postcards, brochures, magazines, newspapers, and billboards across the country. In the 1950s, Silver Springs produced seven million promotional materials at a time and their billboards lined highways from Florida all the way to Maine. These immense promotional and marketing campaigns were unprecedented for the times, and are on par with efforts by modern-day companies like Disney. They also created numerous films and shows on site, which were viewed nationally. Ray and Davidson collaborated with Newton Perry, who facilitated the filming of a variety of TCM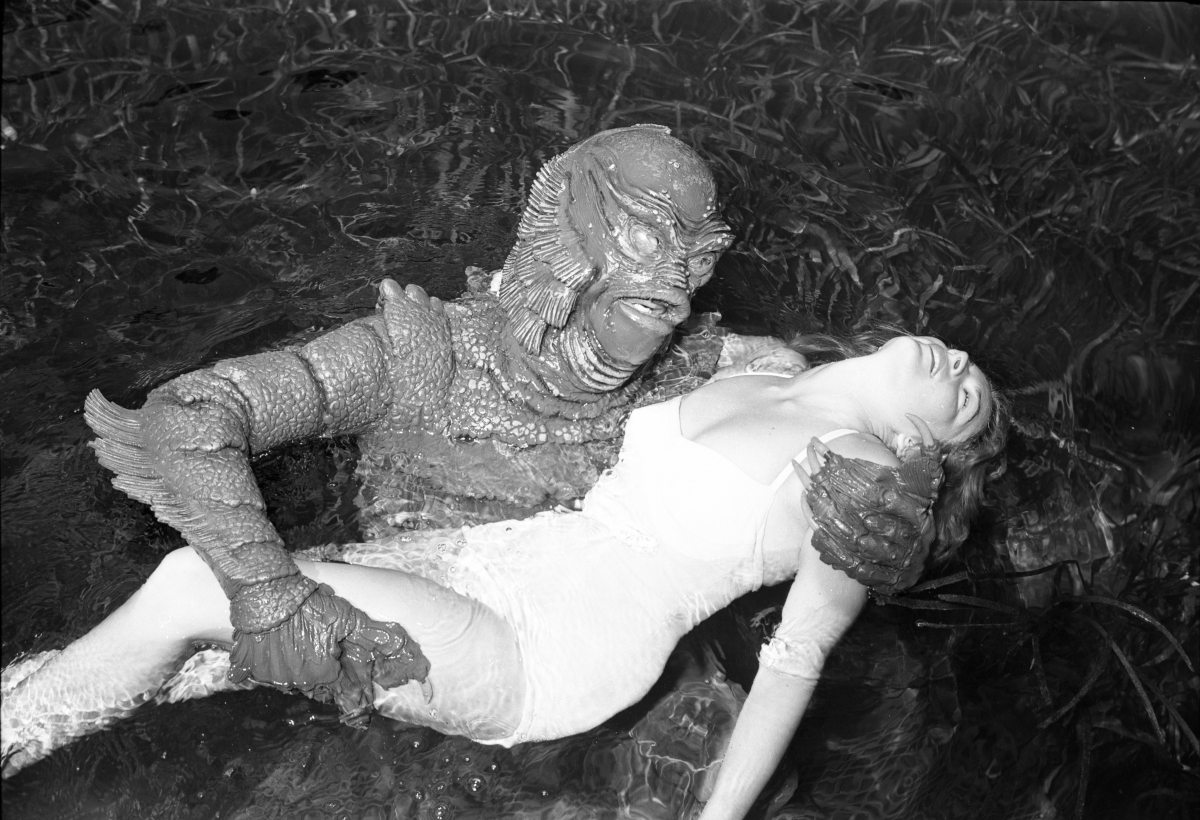 Sportlights shorts and over eighty underwater short films at Silver Springs. Newton's connections also helped him arrange the filming of multiple classic films at Silver Springs including Tarzan Finds a Son (1939), Tarzan's Secret Treasure (1941), The Yearling (1949), Distant Drums (1951), Jupiter's Darling (1955), the Creature from the Black Lagoon (1953), Revenge of the Creature (1955), The Creature Walks Among Us (1956), and the T.V. show Sea Hunt (1960s). These collaborations brought a lasting legacy of film to the area.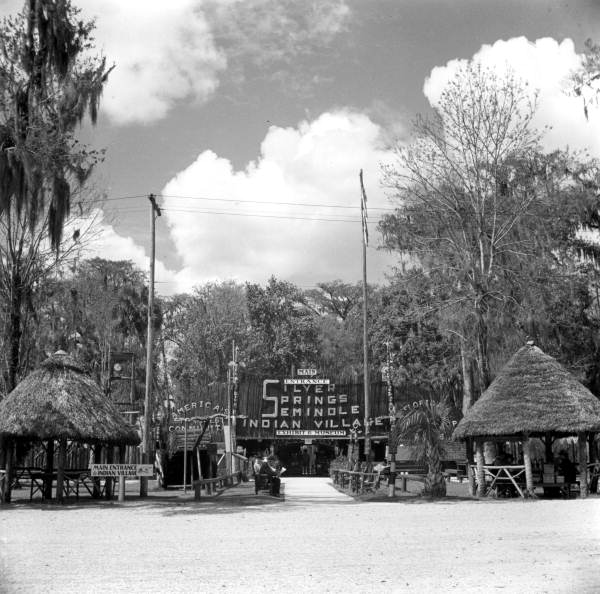 After nearly four decades of building an immense tourism, Ray and Davidson sold Silver Springs to ABC-Paramount Broadcasting in 1962. ABC tried to continue operating Silver Springs as it was but could not match Ray and Davidson's management style and creativity for the park. The advent of Walt Disney World in 1972 changed tourism in Florida forever. Every tourist attraction and destination in the South felt the effects of Disney syphoning off their guests. Additionally, new interstates bypassed older and smaller attractions that existed off the older main highways, like U.S. 27, U.S. 40, and U.S. 441. By 1975, almost all of the attractions at Silver Springs closed or were demolished. In 1984, ABC sold Silver Springs to Florida Leisure Attractions, who in turn sold the park the State of Florida in 1993, though they continued to lease the property until 2013 when it was designated a state park. While nearly all of the original attractions from the Ray and Davidson period have been lost to time, the glass bottom boats remain open to the public.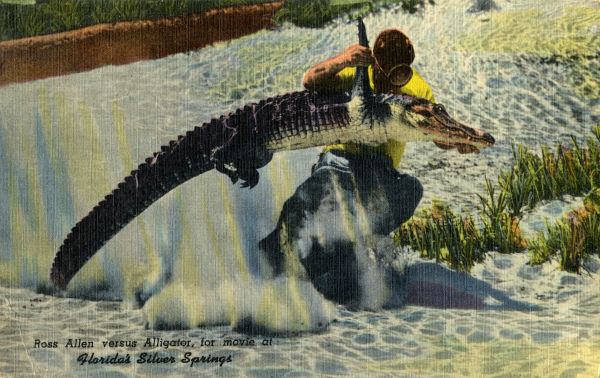 Silver Springs was designated a National Natural Landmark in 1971. For more information about Silver Springs and the surrounding community visit https://silversprings.com/ and https://ocalamainstreet.org/.