Directors Meeting
2021 Annual Florida Public Library Directors Meeting
December 7 and 8, 2021
In person at the Turnbull Conference Center. 
You may also participate virtually.
Registration
Deadline to register is close of business, November 16, 2021. 
Fee
Registration of $110 is for those who participate in-person. 
Hotel
Courtyard by Marriott, Downtown Tallahassee/Capitol
Parking at the Turnbull Center
Parking is limited, but we will provide a shuttle from the hotel to the Turnbull Center.
You will receive more detailed instructions closer to the meeting date.
About the meeting
This meeting provides an opportunity for library directors and leaders from across the state to: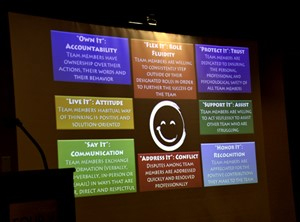 Learn from national thought leaders about cutting-edge trends within the library community.
Receive updates from statewide leaders on current issues.
Gain new insights and skills from library community contemporaries.
Network with colleagues.
Share best practices.
Recognize outstanding programs and leaders.
We invite all Florida public library directors and administrative heads, multitype library cooperative executive directors and special guests to attend this meeting.
Past agendas
You can review agendas from past Directors Meetings to see session topics, speakers and more. 
Contact us
For more information about the Florida Public Library Directors Meeting, contact us at 850.245.6603.