Sea Turtles at the Library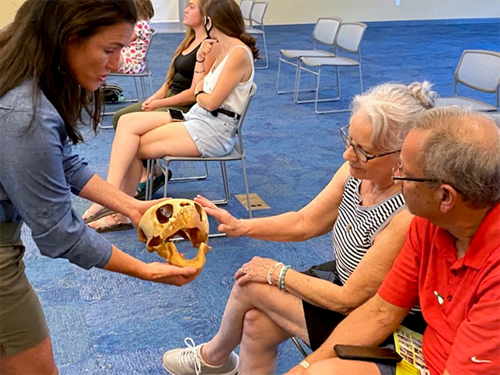 Education and Outreach Specialist Jeannine Windsor shows a sea turtle skull
to a library patron.
Photo by: South Regional Public Library
Educational partnership
The South Regional Public Library (SRPL) branch of Collier County Public Library opened in 2009, and from the very start, they partnered with the Rookery Bay National Estuarine Research Reserve (RBNERR) to provide educational outreach services to the community.
This fruitful partnership enables the library to:
Host educational presentations on topics like the annual sea turtle migration and the role sharks play in estuaries.
Exhibit mammal, fish, birds and reptile bones.
Library and reserve staff describe partnership
Denise McMahon, SRPL Senior Library Supervisor, explains:
The mission and role of Collier County Public Library is to provide open access to innovative educational opportunities, not only through books and technology, but also by means of our ongoing partnership initiatives with organizations such as the Rookery Bay National Estuarine Research Reserve.
RBNERR Education Specialist Morgan Zeleny describes their partnership with the library:
The partnership between Rookery Bay National Estuarine Research Reserve and the South Regional Public Library is a strong, collaborative one that brings our community together through avenues of experiential learning. Whether folks are checking out books on topics that interest them or exploring the exhibit in the courtyard to know more about Rookery Bay, we are fostering an environment of discovery, learning and connectedness in our Naples community.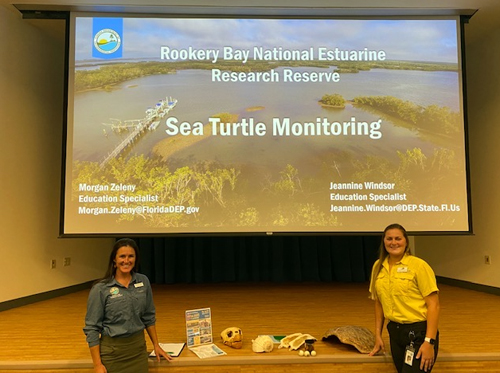 Education and Outreach Specialist Jeannine Windsor (left) and Education Specialist
Morgan Zeleny (right), in front of the Sea Turtle presentation.
Photo by: Rookery Bay National Estuarine Research Reserve
Outdoor exhibit
In the summer of 2021, RBNERR debuted an outdoor, interactive exhibit in the SRPL courtyard about sea turtle monitoring. This exhibit includes images, monitoring facts and a real cage used in the field to protect the sea turtle nests on the beach. Rookery Bay staff Jeannine Windsor and Morgan Zeleny gave a presentation that discussed the topics covered in the exhibit.
As part of the interactive exhibit, the library offers patrons an animal-themed book for checkout and a sea turtle papercraft to take home. SRPL staff track event participation through completion of the children's craft.
Denise McMahon talks about the importance of their partnership with Rookery Bay:
The South Regional Library branch was pleased to work with Rookery Bay for their sea turtle nesting display. Together we are educating Collier County's children and families on the important role of our estuaries through innovative displays, programs and visual aids, as well as through the myriad of books and other printed materials available through the library. Working in concert, we are helping to ensure that our incredibly diverse estuaries and coastal preserves are not only appreciated for their natural beauty and variety, but also for their important role in preserving the health and welfare of our seas.
Future opportunities
In Fall 2021, South Regional Public Library and Rookery Bay National Estuarine Research Reserve plan to debut another outdoor, interactive exhibit. This exhibit, Lives on the Line, will focus on the impacts of marine debris on the environment.
Morgan Zeleny summarizes Rookery Bay's mission and their commitment to their partnership with the library:
Part of Rookery Bay Research Reserve's mission is to be a trusted resource for science-based information, and what better place to continue to share the information about our coastal environment than right down the street at the South Regional Public Library!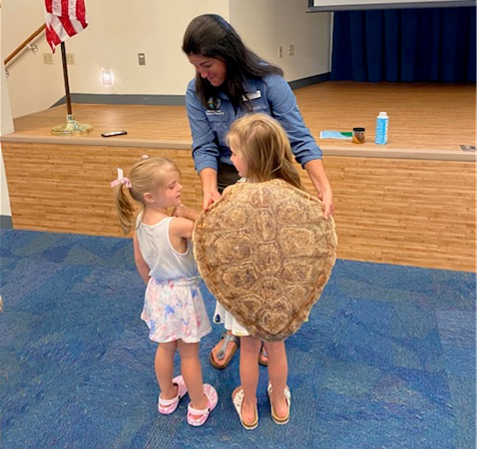 Library patrons attend the Sea Turtle Monitoring presentation.
Photo by: South Regional Public Library