Toni Morrison's Beloved and the Black American Experience in Florida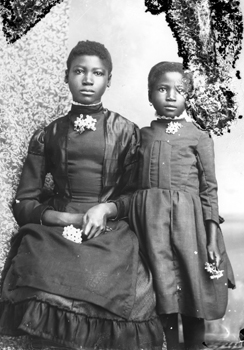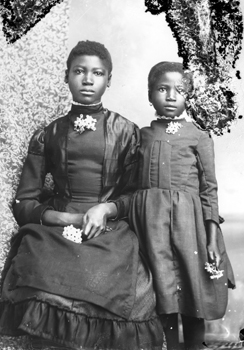 Harper, Alvan S., 1847-1911. Two African American sisters. 1890 (circa).
State Archives of Florida, Florida Memory.
Toni Morrison's Pulitzer Prize-winning novel Beloved tells the story of Sethe, an enslaved woman who escapes from Kentucky to Ohio, but only at unfathomable costs to herself and her family. The trauma of Sethe's experiences haunts her even in freedom and complicates the relationships she has with her children and her community.
Beloved may be set in Ohio and Kentucky, but many of the characters' stories resonate strongly with the actual experiences of Black Americans in all parts of the South. This guide uses resources from the State Archives of Florida and the State Library of Florida to explore some of the main themes from Beloved as they played out in real life in our state, especially in the vicinity of Tallahassee and Leon County.
The State Library collects mainly published materials such as books, maps, newspapers and state agency publications, while the State Archives of Florida primarily collects unpublished primary sources such as diaries, letters, photographs, memoranda and other original records. Together, these resources constitute one of the foremost research collections for studying Florida history and culture.
Published materials
These publications include primary sources such as newspapers, historical reports and historical laws, as well as secondary sources, including scholarship on Florida history topics authored by academics, local historians and genealogists.
They offer details about the lives of antebellum and postbellum Black Floridians and lend historical context to reading Beloved in Florida. Most of these resources can be found at the State Library of Florida.
This portion of the guide is sorted first by theme, then by type of source (primary or secondary) and then alphabetically by author.
Three themes receive special emphasis:
Unpublished materials
Published sources like books and newspapers can offer a wealth of information about Florida's past, but deeper historical analysis sometimes requires the researcher to look beyond what has been printed.
Original archival records offer ways to transcend the broad narratives surrounding a historical topic like slavery and drill down into the actual experiences of individual people, families, businesses, organizations or public agencies.
This section explores a variety of both public and personal records that document the institution of slavery and the lives of Black Floridians before and after emancipation.
The following types of archival records—county, state and federal public records, manuscript collections and photographic collections—reveal details about the lives of antebellum and postbellum Black Floridians and lend historical context to reading Beloved in Florida.
Each category includes a list of examples of useful records from the State Archives' collections. This list is by no means exhaustive. For a more comprehensive list of collections, please see our Guide to African American Resources in the State Library and Archives of Florida.
Public records (government records)
State

Tax records
State census records
Court records
Other records of interest

Federal

Federal census records
Freedman's Bureau records
Military records
Manuscript collections (non-government records)
Many of these records document the Black experience in Florida and provide case studies for understanding the history of enslavement and the lived experiences of Freedmen in Florida.
Photographic collections
The following photographic collections offer visual documentation of the lives of Black individuals and Black communities in 19th-to-early-20th century Florida