E-Books for Library Professionals
New e-books can be read in your browser or with the Axis 360 app for iOS and Android. 
Along came Google: a history of library digitization / Deanna Marcum and Roger C. Schonfeld.
Publication: Princeton, NJ: Princeton University Press, 2021.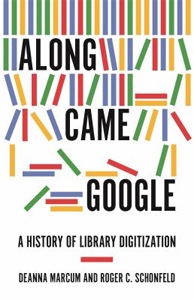 Subject: Google.
Subject: Library materials -- Digitization -- History.
Subject: Digital libraries -- History.
Call No.: E-BOOK 
Academic librarianship: anchoring the profession in contribution, scholarship, and service / Marcy Simons.
Publication: Lanham, MD: Rowman and Littlefield, 2021.
Subject: Academic libraries -- United States.
Subject: Academic librarians -- Professional ethics -- United States.
Call No.: E-BOOK
Also available in print.