Next Level Library Leadership Institute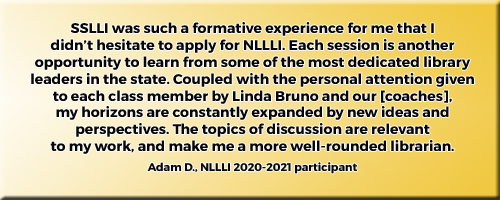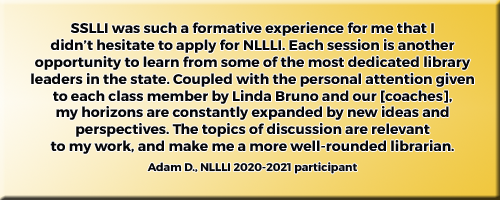 Schedule
All sessions will take place online between the months of October 2021 and June 2022.
Group sessions will be held:  
October 13

, 2021

 

December 1

, 2021

 

February 9

, 2022

 

April 13, 2022

 
Coaching and facilitator sessions will be set up at the discretion of the participants, their coach and the NLLLI Facilitator.
Application information
Application period has ended. Applicants will be notified about acceptance decisions after August 20, 2021.
About the program
We invited eligible individuals to apply for the second year of this unique leadership training opportunity - the Next Level Library Leadership Institute (NLLLI).   
Purpose
Designed to build upon the foundation of the Sunshine State Library Leadership Institute (SSLLI), this program is an opportunity for SSLLI graduates to target specific areas of professional growth, consult with leadership experts through one-on-one coaching sessions and collaborate with fellow library leaders.
Eligibility
This program was open to individuals who graduated from SSLLI Year 1 (2004-05) through Year 14 (2017-18).  
Participants in NLLLI 2020-21 were not eligible to apply. 
Curriculum
The Next Level Library Leadership Institute includes:
Four four-hour, seminar-style virtual group sessions with a 20-person cohort of SSLLI graduates, led by the NLLLI Facilitator.
Four one-hour, one-on-one virtual sessions with an executive coach to target specific leadership skills.
Two one-hour sessions with the NLLLI facilitator to evaluate progress on your individual leadership journey.
A notebook of leadership-related readings/videos/webinars/podcasts selected, annotated and presented by participants during the group sessions (two per participant for a total of 40).

The NLLLI facilitator will provide annotation guidance. 

The opportunity to learn through rich group participation and discussion.
Technology requirements
Participants are required to have access to the Internet, a computer, headset and webcam.
Fee
There was no registration fee for this program.
Institute facilitator
Linda Bruno, M.B.A.
Contact us for more information