Autism Friendly Partnership
Miami-Dade Public Library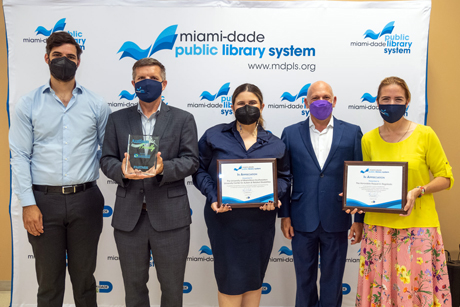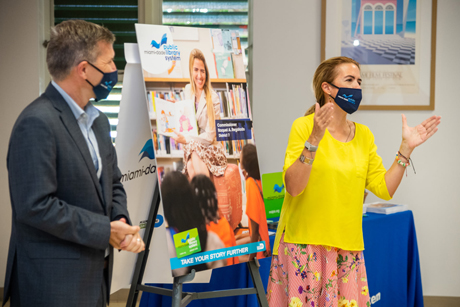 Library Director Ray Baker and County Commissioner Raquel Regalado
Although the Miami-Dade Public Library System (MDPLS) already provided resources for autistic and neurodiverse patrons, such as partnering with the Dan Marino Foundation for their Autism Walk and participating in the All Kids Included Family Arts Festival, library staff wanted to do more for their neurodiverse population.
They reached out to the University of Miami-Nova Southeastern University Center for Autism and Related Disabilities (UM-NSU CARD). UM-NSU CARD created an Autism Friendly initiative to assist community partners in providing a "welcoming, compassionate and nonjudgmental environment for individuals with ASD or related disabilities." MDPLS staff also completed ASD and Strategies for Inclusivity training provided by UM-NSU CARD.
MDPLS Assistant Director Rafael Costa explains why they partnered with UM-NSU CARD. "Libraries have always been about inclusion. That inclusion signifies providing a welcoming and comfortable place for the entire community. We are happy to be partnering with UM-NSU CARD to ensure that our libraries are that place for our neurodivergent customers and their families."
Sensory kits
The Miami-Dade Public Library System took a tiered approach to implementing UM-NSU CARD's guidance. The first tier involved training provided by UM-NSU CARD and following the organization's recommendations.
MDPLS purchased Sensory Kits that contain items such as noise-cancelling headphones, fidget spinners and plush toys. Patrons may use these kits during library programs such as Sensory Friendly Family Storytime.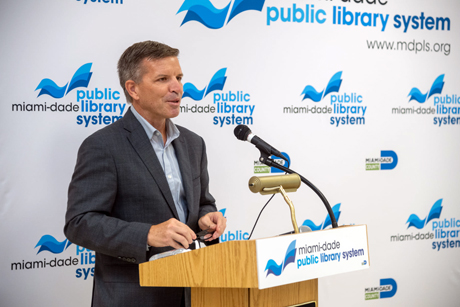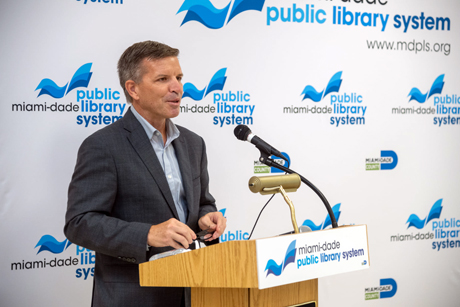 Ray Baker at the podium
Social narratives
The library system's Community Engagement team worked with UM-NSU CARD to create custom social narratives for each of the system's 49 branches (see www.mdpls.org/branch-a-z). The social narratives help neurodiverse patrons understand what to expect when visiting the library, including step-by-step instructions such as what to do upon arriving at the library, the locations and types of common services, and library rules (e.g., talking quietly while inside). Branch staff will print out their library's social narratives upon patron request.
Floor plans
The second tier of integrating UM-NSU CARD's practices involved reviewing the floor plan of each library branch and designating sensory friendly spaces. MDPLS intends to redesign their larger branches with built-in, sensory friendly spaces such as private rooms with low lighting and sound dampening walls.
The library also plans to shift their focus from sensory-friendly children's programming to creating sensory-friendly young adult and adult programming.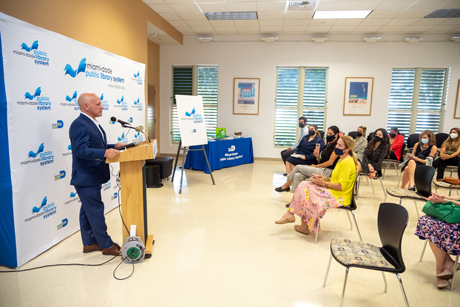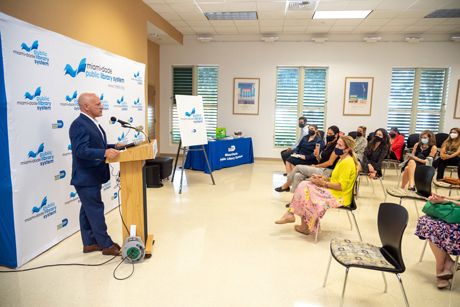 Dr. Michael Alessandri, Executive Director of UM-NSU CARD, speaks
Autism Friendly Award
Following implementation of UM-NSU CARD's recommendations in Miami-Dade public libraries, they received the Autism Friendly Partner award.
Read about why the library system received the award, what the library director had to say and see more images. 
Community feedback
Read about how the community has accepted social narratives, teacher and parent reactions, staff buy-in and see more images from the project.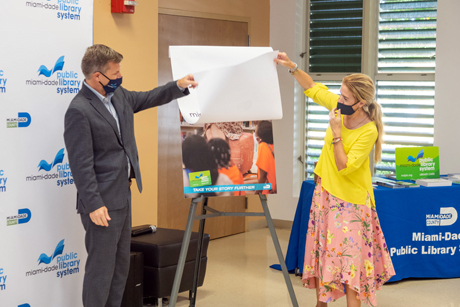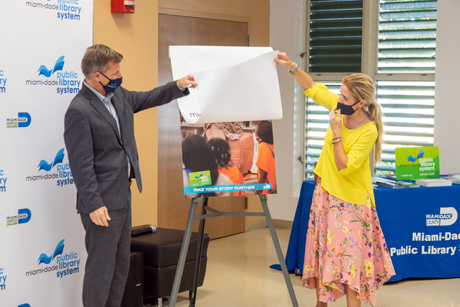 Ray Baker and Raquel Regalado unveiling the poster