Six Gun Territory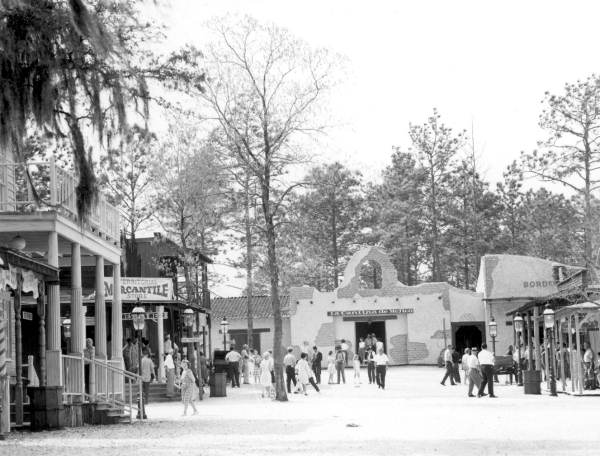 In 1962, R. B. Coburn of Western Heritage U.S.A. Corporation announced the opening of a new theme park off State Road 40 near Silver Springs called Six Gun Territory. Visitors entered the park from the parking lot via train ride, which passed by staged confrontations between cowboys and Indians. Once guests entered the park, they encountered a variety of Western and frontier-themed buildings and attractions including but not limited to:
Staged Shoot-Outs and Duels
Staged Robberies
Six Restaurants
A Mystery Shack
Various Gift Shops
Various Specialty Shops
A General Store
Native American Trading Post
A Church
A Schoolhouse
The OK Corral
A Fort
A Native American Village
A Hotel
A Jail and Sheriff's Office
A Bank
A Blacksmiths Space
A Saloon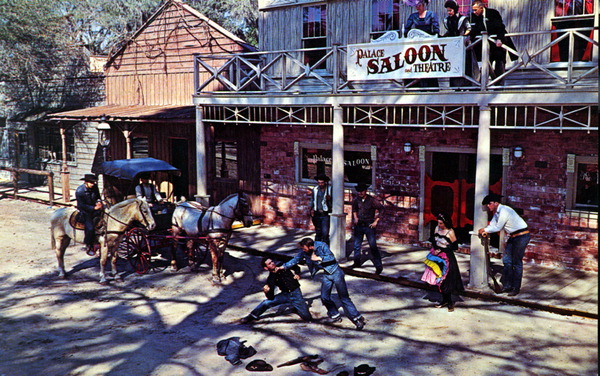 Some of the most popular attractions were the Palace Saloon and Theatre, which featured live cancan dance shows, the staged shoot-outs and robberies, and a replica Mexican Border Town, complete with a casino, market, cantina, and village houses. In the late 1960s, Six Gun Territory was so popular that local restaurants, motels, and businesses replicated western motifs to increase sales through association. However, in the 1970, Coburn sold Six Gun Territory, along with its sister parks (Ghost Town in the Sky in Maggie Valley, NC and Frontier Land in Cherokee, NC). After poor management of the park under various owners, the park officially shut down in 1984. Today, the area that was once Six Gun Park has been redeveloped into a residential neighborhood behind the aptly named Six Gun Plaza shopping center.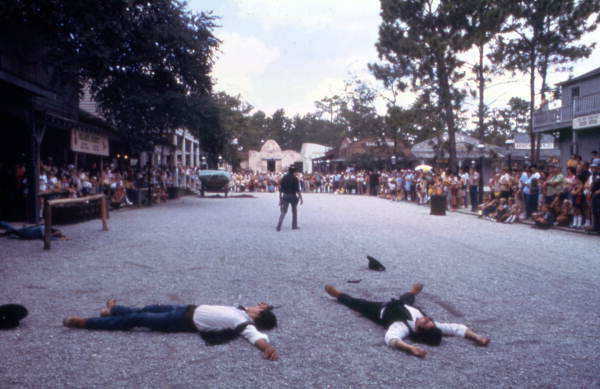 For more information on Six Gun Territory and the surrounding Ocala community please visit https://ocalamainstreet.org/.