The Territorial Period in Florida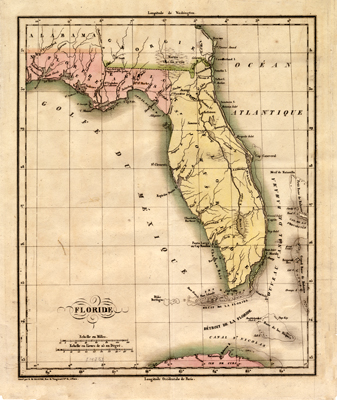 B. de Beaupre. Floride. 1825. State Library of Florida, Florida Memory.
Florida was the ancestral homeland of various Indigenous peoples before becoming a United States Territory in 1821, ending over 250 years of British and Spanish colonial rule.
The territorial period in Florida was marked by an influx of white settlers into the region, followed by the U.S. Government's forceful removal of native peoples from the territory. Concurrently, a plantation economy was established in Florida, under which Black Americans were exploited for labor and systemically disenfranchised of their human rights by slaveholders, lawmakers and other white settlers.
Florida became a state in 1845, but the policies enacted during the territorial period would continue to have a far-reaching impact on the lives of generations of Black and Indigenous Floridians.
This bibliography is not an exhaustive list of resources available from or relating to the territorial period—rather, it is intended to serve as a starting point for researchers investigating this era. Readers may also find the State Library's bibliographies pertaining to Florida's Governors and the Seminole Wars to be of interest.
Materials are generally available through interlibrary loan from the circulating collection of the State Library. 
Links within this bibliography take you to information in our State Library catalog or to more information on external sites.